The string quartet is composed of four young women whose shared passion for chamber music results in an extensive repertoire and experience providing live music for all kinds of events, ranging from weddings, parties and corporate functions to recording sessions and TV shows.
They have played together for many years and performed in prestigious locations in Paris such as The Louvre, musée d'Orsay, musée Rodin, château de Versailles…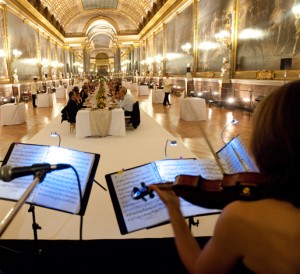 They will work with you to establish the repertoire that suits you best.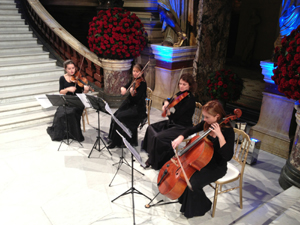 The string quartet  Classical Music repertoire
Baroque Music such as the four seasons by Vivaldi, Pachelbel's Canon, Watermusic by Haendel, J.S. Bach' s Aria, Brandebourgeois concertos, or concerto for two violins.
Classical Period such as Mozart's divertimento, Little Night Music by W.A.Mozart, Figaro's wedding by W. A. Mozart, Airs by Haydn.
Romantic Music such as rêverie by Schumann, musical moment by Schubert, Dvorak's waltzes, Beethoven's pieces.
Waltz such as The Blue Danube by J. Strauss, The « Sleeping Beauty » Waltz by Tchaikovsky, Waltz of the Flowers, Tchaikovsky.
Pieces of French music such as Carmen by Bizet, Fauré's Pavane, The Girl with flaxen hair by Debussy, Panis Angelicus by Franck, Boléro by Ravel.
Here you can watch a video of the string quartet playing
Mozart, Bach, Vivaldi, Purcell :

Here you can watch a video of the violins ensemble playing
Vivaldi, this piece can be played in string quartet :
Modern Music

Jazz and Broadway Musical : West Side Story, Cats from Memory, standards by G. Gershwin, Georgia Brown, Caravan, Bluesette,  Lullaby of Birdland, Summertime, Take Five, Sir Duke, Embraceable you, Unforgettable (Cole).
Pop  :  Beatles, Abba, Elton John, Michael Jackson,  Coldplay.
Film's soundtrack : Breakfast at Thiffany, Moon River, Diva, Titanic, Manhattan de Woody Allen, Rhapsody in Blue by G Gershwin, Victor Victoria, Crazy World.
International Music :  Franck Sinatra, Charles Trenet, Edith Piaf, Michel Legrand,  James Brown,  Stevie Wonder,  Jason Mraz.
Tangos : Scent of woman de Gardel, Chau Paris de Piazzolla, Tomo Obligado de Gardel, El Choclo, Jalousie de Gade, Tango de Roxane d'Usher ( film moulin rouge), Preparense de Piazolla, El Dia que me quieras cuerdo de Gardel.
Here you can watch the jazz standard, Lullaby of Birdland,
this piece can be played in string quartet :
Here you can watch pop music videos of the string quartet.
Lady Madonna by the Beatles