The Ivana Duo, Trio or Quartet, a female string ensemble, offers musical entertainment for any type of event, both private (wedding, anniversary, party) and public (seminars, lectures, inaugurations).
Here are some testimonials of our services with an energetic repertoire including jazz standards and world music as well as classics .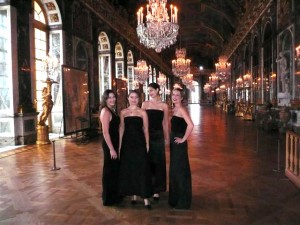 ---
Wedding at the château d'Esclimont, May 10 th 2016, Ivana String Quartet, flute and Harp Ivana duo, Jazz trio :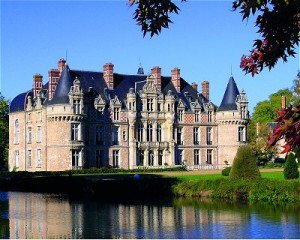 I was very fortunate to have Ivana Musique at my Wedding! I hired the string quartet for my ceremony and cocktail, as well as flute, base and harp player and was very pleased with the result. They played the song I composed for the occasion and were flexible and easy to work with, with very good results! I also had Harp and Flute duo during the dinner, and they did a great job! Soothing, elegant, and sophisticated, my guests were pleased!
For my valse, I wanted a special music and Ivana Musique kindly prepared the arrangement specially for the occasion and did a wonderful job at it, for which I am very grateful. They rehearsed the full repertoire before, and were very professional to make sure everything was perfect! Being a musician myself, I know their professionalism and care makes all the difference, so I really appreciate it! Finally we hired the jazz trio for the party and they were also amazing  and super entertaining! It created a wonderful atmosphere and suited the occasion perfectly, besides doing a great job in several styles of music! Besides this all, Sandrine is extremely good and pleasant to work with and always meets the client's needs, even when it requires flexibility and doing something very personalized. She is helpful and kind, always in a good mood, which helps the anxious bride a lot, and gives you a wide variety of music to choose from. We worked together from different continents, and different languages, doing something very complex and still everything was perfect, and Sandrine and the musicians made it feel like it was simple!  Everybody involved was doing their best, very competent, patient with the schedule, polite and elegant, and also receptive and kind. I am very pleased to have chosen them for my special day and grateful for the results! After all, this is the kind of memory that will last forever and stay in our hearts! Congrats Ivana Musique!
Paula Lalli
---
Corporate Event, September 30th 2015, Cité de la musique, Paris, Ivana String Quartet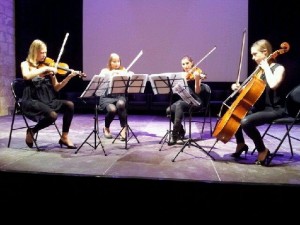 Ivana quartet played during our european conference at Cité de la Musique. The music was very good and they really gave the additional spirit to the evening. I would like also to acknoledge their great professional attitude. Thanks!
François Weiler
---
Wedding at Musee Rodin and wedding cocktail at Le Meurice, September 3th 2015, Paris, Ivana String Duo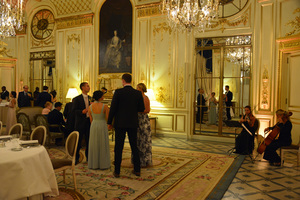 We had a duet violinist and cellist from Ivana Strings for our destination wedding at Paris.  We planned our wedding from San Francisco and were introduced to Sandrine by our wedding planner.  Sandrine was easy to work with and she was very accommodating when we asked the duet to learn a piece that was not in their regular repertoire.  The musicians are clearly talented and they played beautifully during the ceremony at Musee Rodin as well as cocktail hour at Le Meurice.  They provided a touch of elegance to our event that we look back upon fondly and are so glad that we chose to incorporate them into our wedding. 
thanks again for being a part of our wedding!
Janina & Garret
---
Corporate Event, June 14th 2015, Opéra Garnier, Paris, Ivana String Trio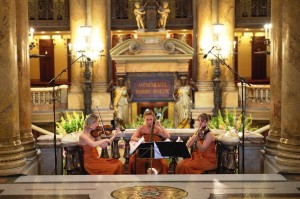 Hello Sandrine,
Just a few words to tell you the trio was greatly appreciated and that the musicians wonderfully contributed to the success of our reception at the Opera Garnier on Sunday.
Thank you so much and I hope we can work together again soon,
Yours sincerely,  Mélanie Delaplanche – Cahut    First Protocol
Wedding Cocktail, June 13th 2015, Shangri-La Hotel Paris, Ivana String Trio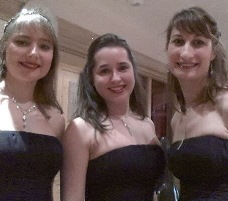 Dear Sandrine
We wanted to thank you again for the wonderful music! All of our guests loved listening to the trio during the cocktail hour.The combination of both classical and modern music was excellent and suitable for all ages. Our guests particularly loved the modern music played and enjoyed singing along! The talent quality and professionalism of the musicians was spectacular.
Also, leading up to the wedding, Sandrine was extremely helpful in selecting music and very responsive. Thank you for helping to make our wedding day so special.
Best Regards,
Alexandria & Chris
---
Wedding ceremony and cocktail, June 12 th 2015, The Westin Paris-Vendôme,Ivana String Trio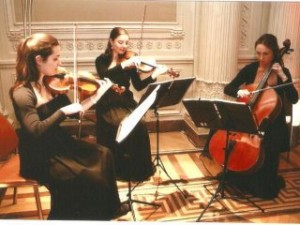 Dear Sandrine
Greetings from Bretagne!
We would like to thank you and your trio for delivering such beautiful music for us. It was a pity that I was running everywhere on that day, and don't really have the time to enjoy the music. But all the guests were having really good time and really enjoy it.
Thank you for your services and to share the most important day in our life. All the best! Kate et Alexandre
---
Wedding ceremony and cocktail,  château de Breteuil, August 9 th 2014, Ivana String Quartet

Bonsoir Sandrine,
A very big thank you from me as well for an excellent performance at our wedding! We are very happy that we worked with you and the evening was just perfect.
Many thanks and have a wonderful week, please say hello to everyone from the quartet for us! We will send you pictures when they become available. It was a very memorable event for everyone in attendance.
Kind regards,
Bálint

---
Corporate Event, Musée Jacquemart André, Paris, Ivana String Quartet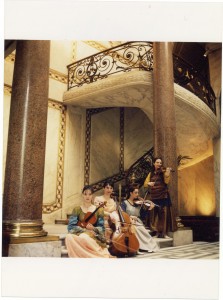 Hi Sandrine
Please can you let Ivana string quartet know that I have received reports that the dinner last night was an outstanding success.  The guests were hugely impressed with the string quartet 's playing and I was also pleased to see them!  They arrived early (which was a great relief to me), looked and played beautifully and they were also very accommodating. As this booking was confirmed so last minute this is a great result and I know the clients were very happy.
I sincerely hope that we have the opportunity to work together in the near future, thank you again to both yourself and Thomas.
Best wishes,
Antonia/First Protocol
Corporate event, Ivana String Quartet, Musée d'Orsay, 20 juin 2011, Paris, Ivana String Quartet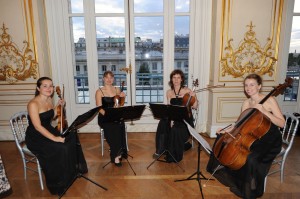 Dear Sandrine,
The music was wonderful.  I heard a lot of positive comments regarding the musicians.  So, please thank them again for me.
Best regards,
Yvonne Walker
Sr. Manager, Business Ops. & Marketing
Spirit AeroSystems, Inc.
---